We anticipate having Teams for the Anthem and Peoria location for SPRING 2023 SEASON formed mid March 2023. 
Jerseys and uniform add on's will be distributed by your Coach prior to your first game of the season.
We offer three season a year, Winter (Jan-March), Spring (April-May), Fall (sometime between (Late Aug-Early October PEORIA) (Late September to early December ANTHEM)
Each season is 7 weeks long, guaranteed to play 7 games. Depending on season, we may have a league wide bye for Holidays but always expect 6 regular season games and 1 guaranteed Playoff game at the end of season.
We will do our best to reschedule within the season, however not guaranteed we will be able to accommodate given the circumstances.
Unfortunately, we do not offer refunds due to COVID or any personal conflicting issue once registered. 
An Empowerment Scholarship Account (ESA) is an account administered by the Arizona Department of Education (ADE) and funded by state tax dollars to provide education options for qualified Arizona students.
very K-12 student outside of the public school system in Arizona is eligible to participate in the state's Empowerment Scholarship Account (ESA) program, regardless of family income, where the student lives within the state, or the student's past academic performance.
For full details on this program, please visit Arizona Department of Education website directly https://www.azed.gov/esa
If your child is Approved for ESA and has a  Classwallet account set-up with available funds, you can register your child using those funds. We have created a specific ESA Funding Registration for each of our available programs. 
You have two available option to register your child for our league, using ESA funds.
Option one; you may register your child as usual and then use the payment receipt to submit to ESA/Classwallet, for a reimbursement of payment.
Option two, we can pre-register your child and get him/her added to a waitlist, while ESA/Classwallet process payment for your invoice. You will need to choose the " ESA FUNDING" registration option while registering your child. Upon pre-registering we will send you the invoice that can be used to submit to Classwallet for payment. Once the league receives payment from Classwallet, we will move your child to a be rostered to a team. (note: this make take some time as the process will depend on how quickly classwallet processes your invoice payment request) 
Every Kid Sports is an outside non-profit organization helping kids from income-restricted families participate in youth sports so they too can experience the positive benefits of playing.
This is an outside non-profit organization. Here are their requirements;
Your child is currently enrolled in Medicaid,SNAP or WIC.
Your child is between the ages of 4-18.
The sport you are applying for is recreational, not elite or travel.
The sports season lasts at least 4 weeks.
To find out more details on how to qualify for their grant program, please visit their website directly. https://everykidsports.org/every-kid-sports-pass/
If you meet the qualifications for Every Kid Sports Grant, you can follow this link to register for your child to play NFL Flag Football in our league. 
To register now, follow this link. https://everykidsports.org/nflflag-apply/
Every Kid Sports has annouced opening dates for Fall 2023, Winter 2023 and Spring 2024 Pass Seasons:
 Fall 2023 opens July 18, 2023
Winter2023 opens November 1, 2023
Spring 2024 opens January 23, 2024
**Be sure to add these dates to your calendar and apply right away as passes are limited till funding allows per each season**
NEW League Apps update - You can now view the season playoff bracket through the team app! Simply log into your Leagueapps app using the same email used while registering for the season, and find the bracket under the team schedule/calendar tab. 
You may also preview the Playoff brackets through your Core 5 LeagueApps online dashboard using the internet browser. Simply log in to your Core 5 Leagueapps account > Schedule > Choose the bracket icon to view the bracket per division. 
This quick video will allow you to preview the steps to follow when using a mobile device to preview brackets. https://core5ff.com/wp-content/uploads/2022/11/Core-5-Mobile-Dashboard-Braket-Preview.mov
Due to the material these NFL Flag Nerf belts are constructed, we recommend to follow the steps when cutting the excess material from the belt.
Reminder, leave enough room for growth when cutting off the excess part of the belt. 
**Fraying will occur and belt will fall apart if these steps are not followed.**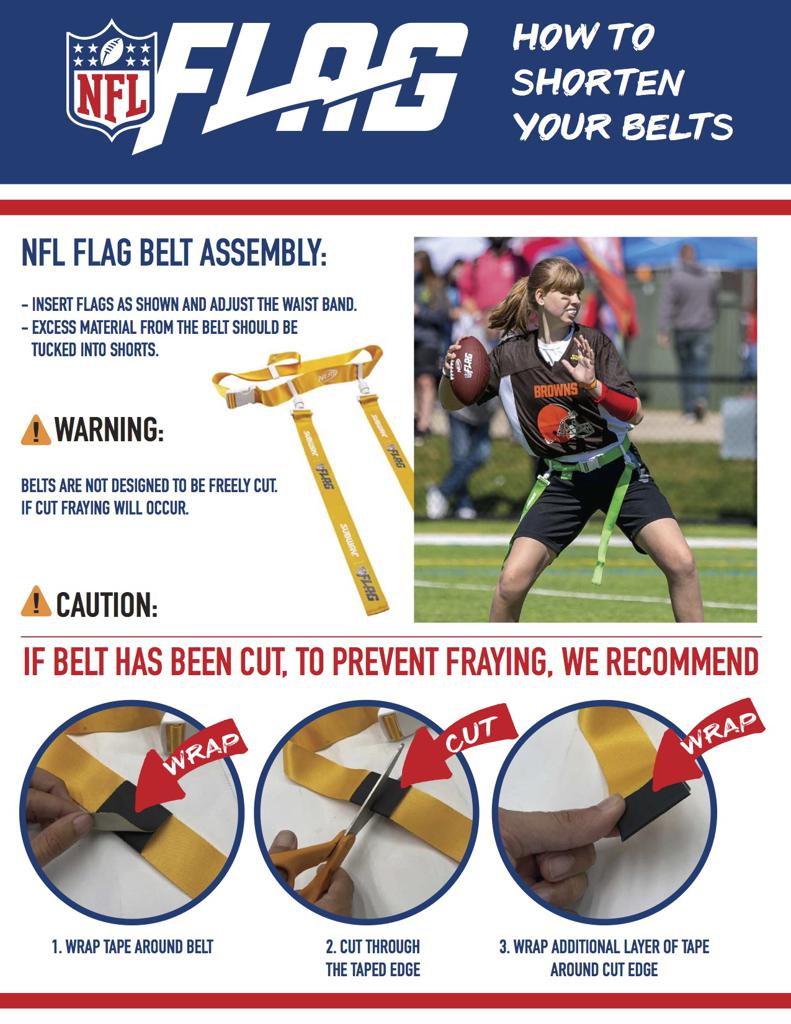 Registered Volunteer Coaches will be assigned to a team based on the league needs, and not guaranteed to be selected every season.